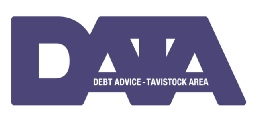 Debt Advice – Tavistock Area
Authorised and regulated by the Financial Conduct Authority for debt adjusting and counselling reg.no. 690987
 Problems paying bills?
 Need help with your debts?
 Under pressure from bailiffs?
 Struggling to make ends meet?
 Need advice on dealing with creditors, debt management, bankruptcy, debt relief orders, IVAs?
DATA has trained advisers to help with issues related to personal debt. We are here to help. Our advice is free and open to all.
Phone or text 07955 728721 or email enquiry@datavistock.org.uk to arrange a meeting with an adviser.
DATA is a charity supported by Tavistock Area Christians Together to provide a free advice service to the whole community.